Felicitation by the Hon'ble Governor of Meghalaya to NIC Meghalaya Officer during the NCC day 2019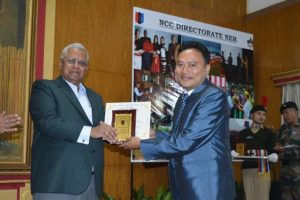 Shillong, November 28, 2019: NCC Day 2019 was celebrated at the Raj Bhavan, Shillong on the 28th of November 2019. Shri Tathagatha Roy, Governor attended the program as Chief Guest.
The Governor in his speech lauded the services of NCC towards the nation-building, and character building of the youth. He added that the two pillars of NCC; Unity and Discipline must be emulated by every youth, for building a strong nation.
During the program, The Meghalaya Governor, Shri Tathagatha Roy, presented the awards to special achievers from the NCC Organizations and also presented a token of appreciation and recognition to Shri. Kernold Basaiawmoit, SSA NIC, Shillong for his contribution towards the eGov Application developed for NCC NER Directorate, at Raj Bhavan, Shillong.