A Report of NIC activities during the 22nd NCeG Workshop held at Shillong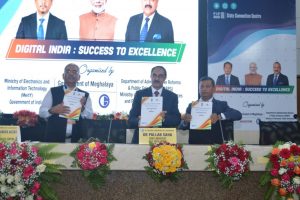 Shillong, August 9, 2019: The Department of Administrative Reforms & Public Grievances (DARPG), in association with Ministry of Electronics & Information Technology (MeitY), Government of India and the State Government of Meghalaya organized the 22nd National Conference on e-Governance (NCeG) 2019 on 8-9th August, 2019 at Shillong, Meghalaya. The theme of this Conference was "Digital India: Success to Excellence". At the valedictory session today, 'Shillong Declaration' on eGovernance was adopted after intensive deliberations during the sessions held over two days.
Union Minister of State (Independent Charge) for the Ministry of Development of North Eastern Region and Minister of State for Prime Minister's Office, Ministry of Personnel, Public Grievances & Pensions, Department of Atomic Energy and Department of Space, Dr. Jitendra Singh inaugurated the conference on 8th August. Shri Conrad Kongkal Sangma, Chief Minister of Meghalaya presided over the as the Chief Guest of the event.
During the 1st Session of the NCeG Workshop, Shri Ajay Prakash Sawhney, Secretary Ministry of Electronics and Information Technology (MeitY) released the Coffee Table Book on e-Governance Projects in Meghalaya by NIC during the 22nd National Conference on e-Governance held at Shillong on the 8th August 2019 in presence of Shri. D.C Misra, Senior Deputy Director-General, and Shri Timothy Dkhar, Deputy Director General & State Informatics Officer, NIC Meghalaya. This booklet provides a glimpse of the different IT solutions and activities implemented for various Departments in Meghalaya
During the Plenary Session – I on INDEA held at the 22nd National Conference on e-Governance at Shillong. Dr. DC Misra, DDG NIC, presented IndEA NICs experiences and the Road ahead. The panelist during this Session was Dr. Lounesh Chanana (Chair), Dr. Pallab Saha, Chief Architect, TOGAF and Dr. Chanu Mahotra, Associate Professor, IIPA, who covered the topics, such as Making INDEA work the Agile way, Digital Service Standard, and Architecture Standards.
Mrs. Rachna Srivastava, DDG NIC delivered the lecture on Eoffice discussed during the Secretariat Reforms session day II Plenary V Session of the 22nd NCeG held at Shillong, the other office Applications that were also showcased during that session were OSWAS, which was delivered Shri R.N Palai, Special Secretary Dept. of IT, Odisha and RajKaj delivered by Shri. Ravi Shankar Srivastava Additional Chief Secretary, Govt of Rajasthan.
Mr. Timothy Dkhar, DDG & SIO NIC Meghalaya delivered a presentation on Meghalaya statewide Enterprise Architecture (MeghEA) during the Break-out "End to End Digital service " Session on the 2nd Day of the 22nd NCeG held at Shillong.
NIC Meghalaya provided webcasting and Wifi services for all the session during the two-day conference. An Exhibition was also organized during the event to showcase India's achievements in the field of e-Governance, for which a stall was also maintained by NIC Meghalaya to showcase all the e-Governance efforts that are being provided to the state.